The Springbok Women had to dig deep and to beat a determined San Clemente Rhinos team at False Bay Rugby Club in Cape Town on Tuesday afternoon, winning the hard-fought match by 22-17 in miserable conditions.
The Bok Women raced to a 22-3 lead before, but much of their second half effort required some determined defence. Poor discipline resulted in three yellow cards to the South Africans, while their attack in the second half were nullified by numerous handling errors and penalties conceded.
The Springbok Women, playing with a stiff breeze in their backs, started well. They won a scrum, Unam Tose played nicely off the base and kicked ahead where a flying Maceala Samboya outpaced the Rhinos cover defence to get an early try on debut.
The Rhinos managed to get their hands on the ball, but determined defence by the Boks kept them at bay in the opening minutes.
A good phase of patience on attack resulted in the next points. A strong break by Tose gave her side momentum and when the scrumhalf was tackled, Libbie Janse van Rensburg spotted a gap and raced through. Jakkie Cilliers converted and the gap was up to 12 points.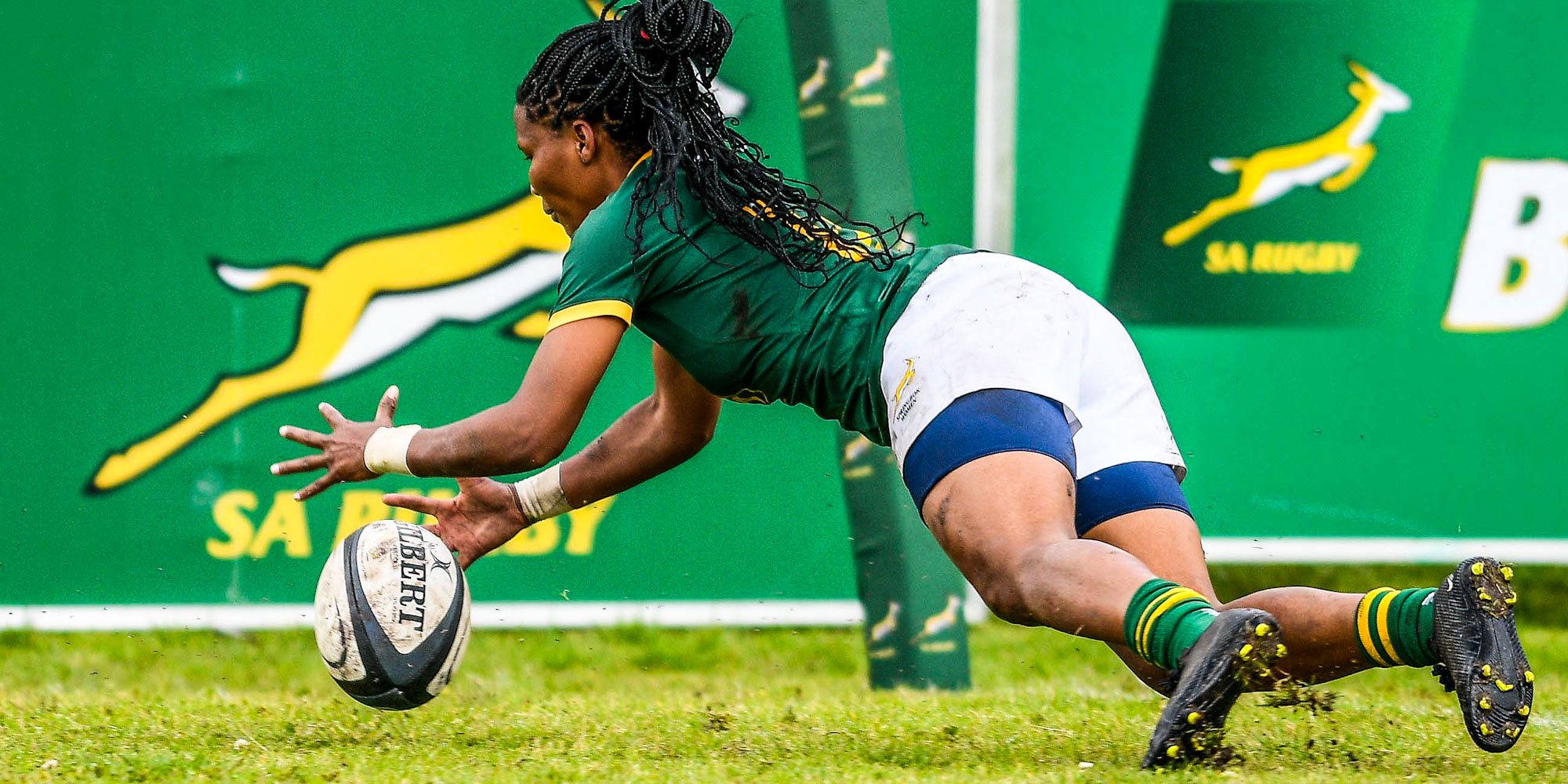 The Rhinos, who had their moments in the set piece, managed to bring their strong carriers into the game, especially former Bok Women's player Shona-Leah Weston (No 8), but the SA defence remained strong.
The Rhinos were stopped a meter from the line and when the ball found local hands, Samboya's pace proved decisive again.
A probing kick by Janse van Rensburg found the Boland Dames flyer, who dotted down. Cilliers could not convert from the touchline, but the scoreline was up to 17-0 after 23 minutes.
A yellow card for offside play to Samantha Els after half and hour handed the Rhinos their first points. Flyhalf Kristin Bitter, who minutes earlier missed a penalty, slotted her second effort to put her team on the board.
Bok Women hooker Luchell Hanekom got the fourth try, scored from a strong lineout drive, for a 22-3 lead shortly before the break.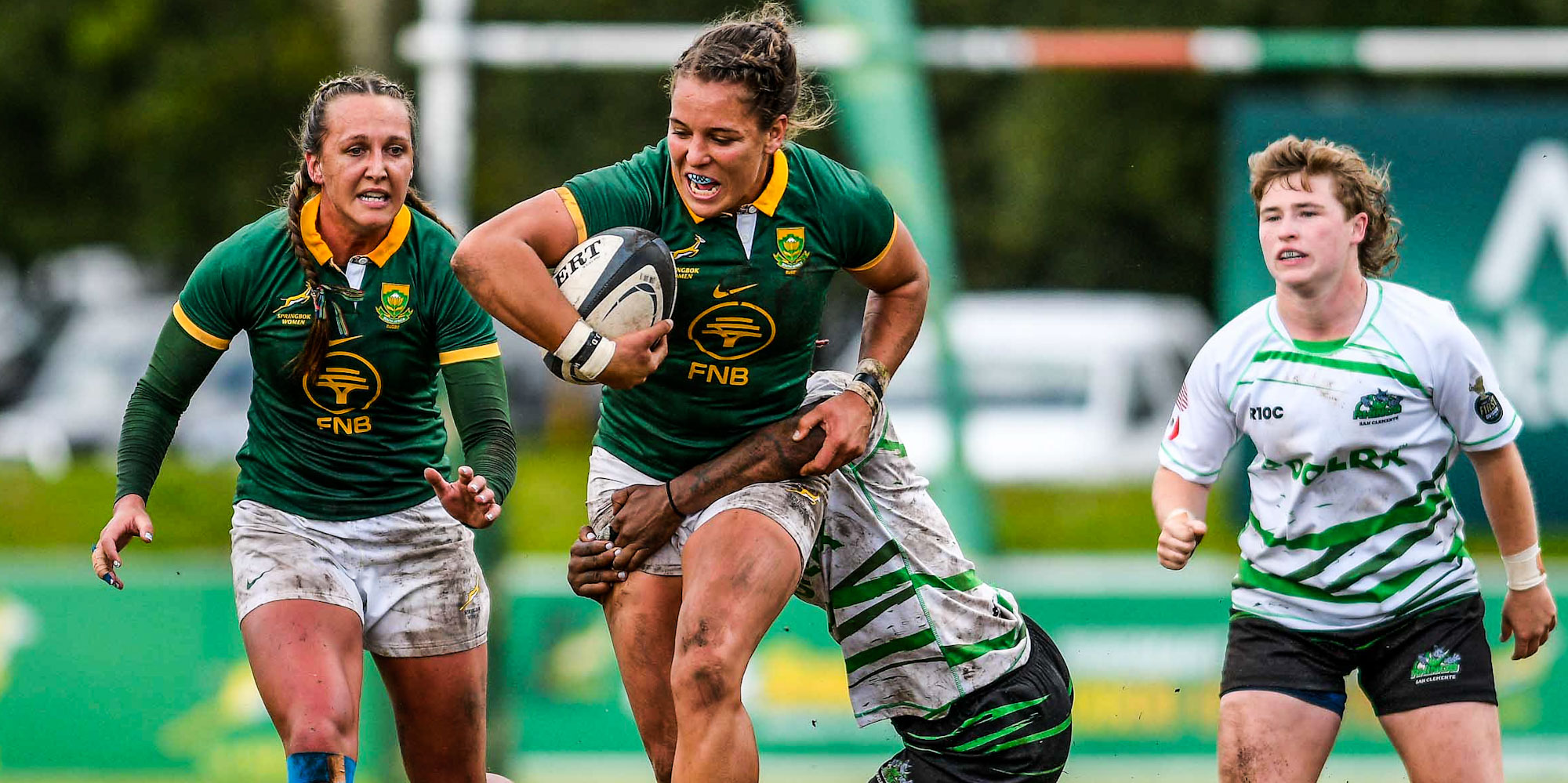 The second half started well for the visiting team. Prop Nicky Dix barged over from short range after some solid lead-up play by the pack, who managed to put the Boks under pressure. Bitter converted for a 22-10 scoreline after 48 minutes.
A yellow card to Piwokuhle Nyanda for a high tackle, their second of the match, created some defensive problems for the South Africans, who were often penalised for going to ground when protecting the ball carrier.
With their tails up and an extra player, it was a matter of time before the visitors scored again, and they did so through a long-range effort from replacement wing Kathrine Lohaus, who ran all of 50m to dot down. Bitter converted to make it 22-17 with just over 20 minutes to go.
A third yellow card – to Sinelitha Noxeke for a high tackle – compounded their problems, as well as Samboya limping off with an ankle injury, leaving the South Africans with 13 players on the field. This resulted in flankers Lerato Makua and Nompumelelo Mathe operating on the wing.
It was no guts, no glory for the home side, who defended with everything they had to keep the Rhinos at bay. They did so with a lot of courage and grit to claim a win that would at least show coach Louis Koen that he has a team that can stay in the fight when the chips are down.
Scorers:
Springbok Women 22 (22) – Tries: Maceala Samboya (2), Libbie Janse van Rensburg, Luchell Hanekom. Conversion: Jakkie Cilliers.
San Clemente Rhinos 17 (3) – Tries: Nicky Dix, Kathrine Lohaus. Conversions: Kirstin Bitter (2). Penalty goal: Bitter.
Pictures: Carel Stander Photography.