Both Erasmus and Davids expected Romania to throw everything at them, despite suffering an 82-8 defeat against Ireland in their opening match, and they suggested that they could rotate their squad this week.
On the injury front Erasmus said that he suspected that lock Eben Etzebeth could be sidelined for seven to 10 days after leaving the field with a shoulder injury, but he said it wouldn't have a big influence on their team selection this week.
However, the focus was firmly on Romania, according to Davids: "It would be a mistake to look at the Scotland game and say it's done [qualifying from the group]. We need to continue with our campaign, and we'll have to take the lessons we learned into account and ensure that our mental and physical preparation on the training field is right. There's still a long way to go, and we need to improve in every game."
Erasmus added: "The Romania match is the most important one next, not just to get the result, but to improve enough to really give the No 1 team in the world [Ireland] a go.
"If we manage to win that one, then it will be a really interesting last round because I think Scotland have the ability to give Ireland a go. They are used to playing against them in the United Rugby Championship and the Six Nations.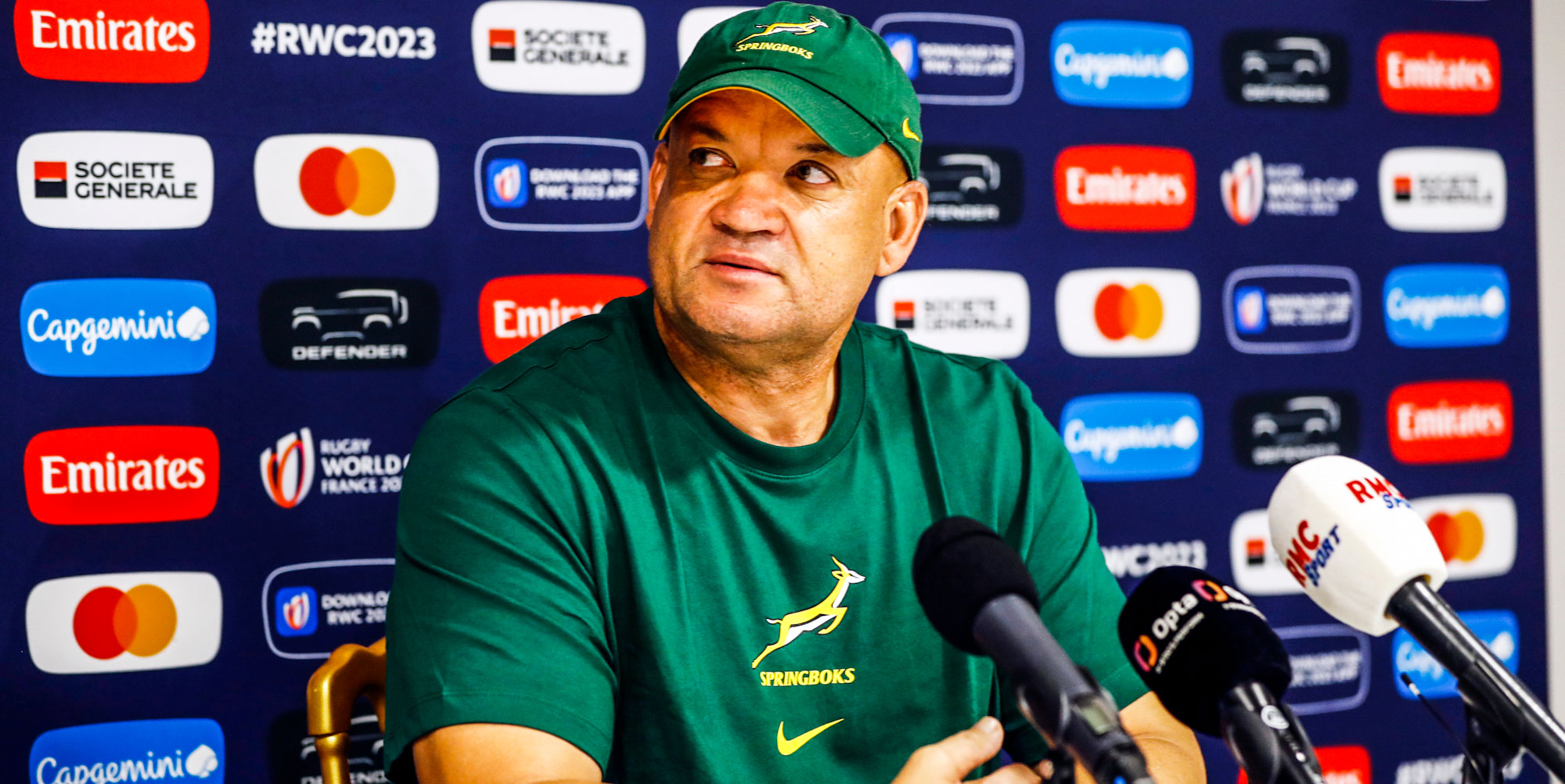 "Ireland will come with a strong team against us, but they're also playing Tonga this weekend, and it's going to be nice and exciting. That's what makes the World Cup so special and exciting at the same time."
Hinting at a possible switch in some personnel this week, Davids said: "We approach every team with a lot of respect, and obviously all the players in the squad are excited to be part of the competition. If we rotate the squad or if we look differently at the squad selection for this game due to player management, obviously we'll take our performance from the past game into account."
Erasmus and Davids were satisfied with the team's start to the competition – although they insisted there was room for improvement – with Erasmus saying: "Overall there was so much talk about Scotland being the best team in their history and we know how famous they are for attacking and spreading the ball and playing a really high-paced game.
"So, we're very happy that we could contain them with all their great ball carriers. It was obviously a far from a perfect performance, but we think we have a solid foundation to work from. Romania will definitely come out and give their all. In certain areas they'll really challenge us, but we have a base to improve from."
The Springboks had Monday off to rest and recover from the physical encounter against Scotland and will begin their on-field preparations for the match against Romania in Bordeaux on Tuesday.