While Stick stressed the importance of building on the Springboks' performance in their 40-9 victory against Georgia two weeks ago and sparking unity in the country following a trying time with unrest in certain parts of the country, Am said everything they do is geared toward being in the best form possible when the Test Series kicks off next Saturday (24 July).
Stick and Am both expected a physical onslaught from the tourists, but said they were ready to face up to the challenge.
"It is important for us to improve on our performance against Georgia in this match," said Stick.
"There are boxes we want to tick, for example starting the match better, and delivering an 80-minute performance.
"This is a physical British & Irish Lions team and we know if we give them a sniff, they will punish us, so it is vital that we pitch up from the first minute."
He added: "If you look at their game, they are a well-balanced and physical side, and they have players with an X-factor and some dangerous outside backs, so we cannot point out many weaknesses.
"Their players are the best of the best in each position, so we have to be sharp in every department on the day. We have to pitch up from start to finish."
Stick said giving the public hope and sparking the unity the Springboks witness first-hand on their trophy tour through the country when they returned to South Africa from Japan following their Rugby World Cup victory in 2019, was also a huge motivating factor for the team during what has been a challenging time for the country.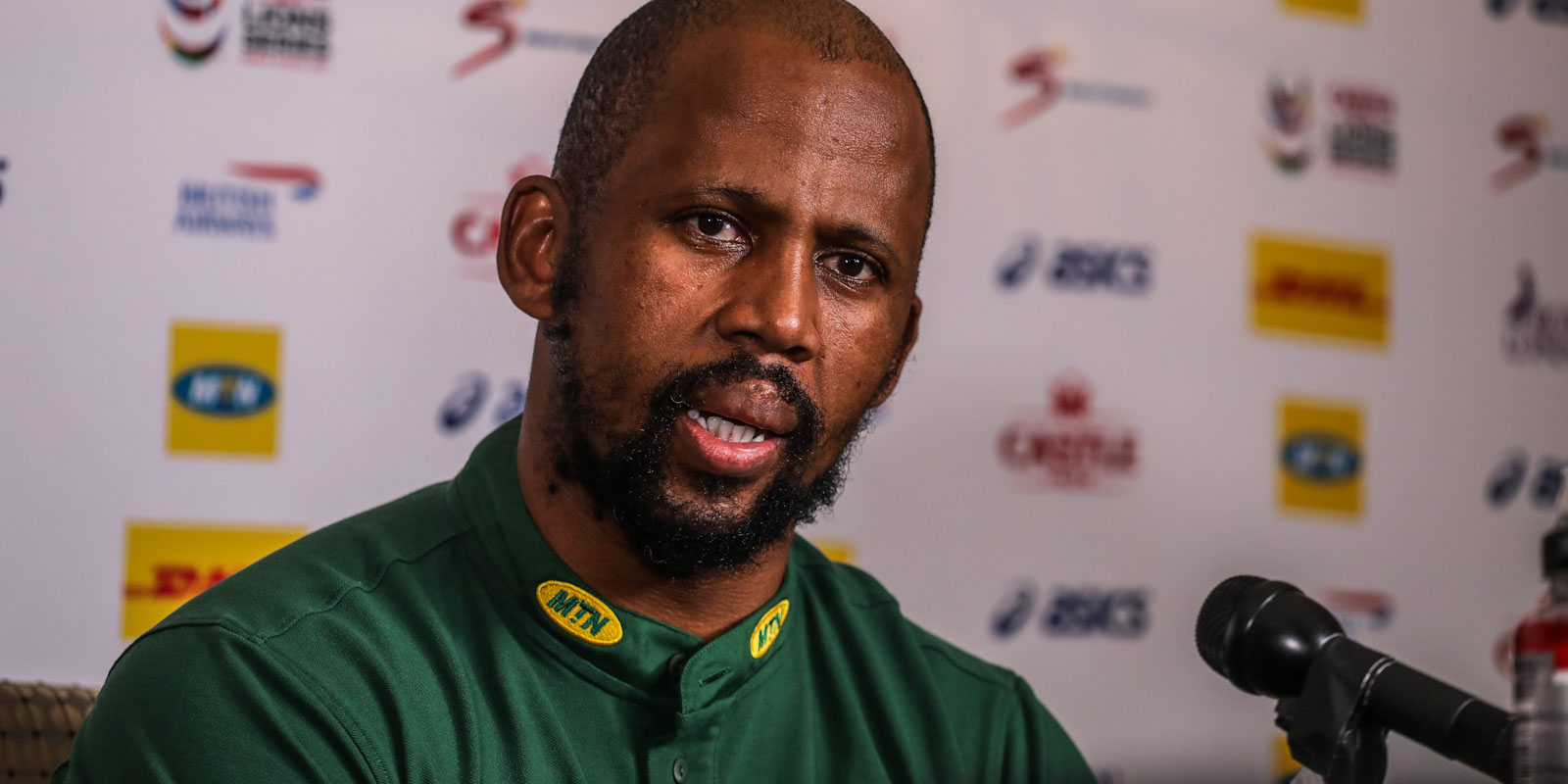 "From what we have seen on social media and television we are living in very sad times – one of the main reasons we live for the Springboks is to put smiles on peoples' faces," said Stick.
"I will never forget the images of how everyone came together after the Rugby World Cup final and that is the type of hope we want to build. If we can build unity by playing in this Castle Lager Lions Series, it would be fantastic for us a team."
Am was excited to the steer the side in the green and gold jersey and said: "Leading this side means a great deal to me. To be selected as the captain and to have players around me with over 50 Test caps is really special.
"I'm going out there as a young leader in the national colours with good backing, so I am really looking forward to the match."
The skipper admitted that while being in preventative self-isolation for six days last week was not ideal in terms of their preparation, they were determined to deliver a quality performance for their country.
"We couldn't do much in the six days in which we were in quarantine; we stretched and did basic workouts in our rooms," said Am.
"We also had several team meetings and did analysis via online meetings. On the other hand, however, we are going into the game fresh, and the players who had niggles had sufficient time to recover from them, so we will see where we are physically tomorrow.
"We will certainly give our best on the field and push as hard as we can."
Responding to reports that the SA 'A' team could play another match on Saturday as they build up toward to the three Test matches against the British & Irish Lions, Stick said: "As a team we would take any opportunity we can get to reach the level we would like to be at.
"We are far off from where we were in the Rugby World Cup final, and any opportunity to get closer to the desired level before our first Test match will be welcomed."
The match between the SA 'A' team and British & Irish Lions will kick off at 20h00 and will be broadcast live on SuperSport. Jaco Peyper is the referee and he will be assisted by Wayne Barnes and Marius van der Westhuizen on the sidelines, while Marius Jonker is the TMO.